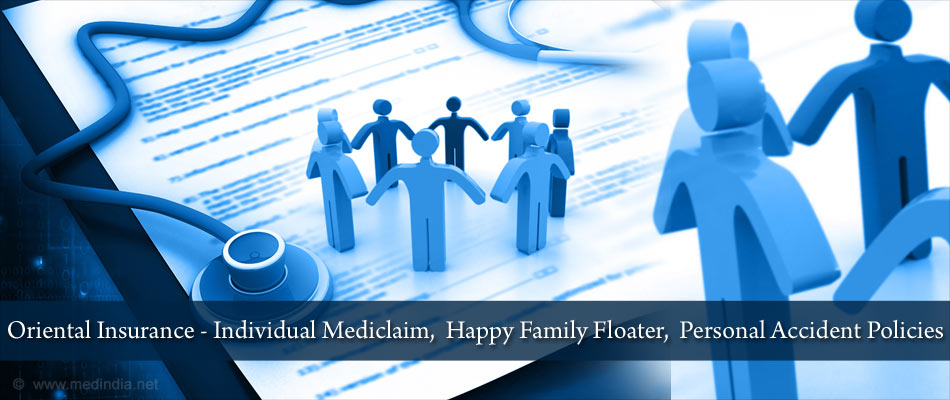 Health Insurance covers the expenses related to hospitalization and medical expenses. When the coverages are cashless, the insurance plans make your life affordable. Oriental Health Insurance offers all the benefits through its insurance plan anyone would ever want. The plans offer coverage according to the type of plan chosen and premiums paid for the same.
All the Oriental Health insurance plans provide standard coverages. Some of the coverages are listed below.
The Health insurance plans cover In-patient hospitalization expenses such as room rent, boarding, and nursing, ICU charges, Surgery related charges, medical practitioner's fee, medicines etc.
Provides coverages for Pre-hospitalization expenses incurred 30 days pre-hospitalization.
All the expenses within 60 days of the post Hospitalization.
Provides you daily cash benefits for the sum assured.
Covers a limited domiciliary treatment expenses based on the plan chosen.
As listed in the policy plan, Daycare treatment or procedures are covered.
The plans also cover surgical expenses incurred.
Comprehensive coverage such as Maternity Cover, Newborn baby cover.
As specified under the policy chosen, convalescence Benefit is paid to the insurer.
The coverages offered to vary according to different plans. However, most of the plans offer the above coverages. There are several health insurance plans online offered by the oriental insurance company.
The health insurance plans are eligible for expenses such as expenses related to the surgeon, Anesthetist, Medical practitioner, consultations, purchase of anesthesia, blood, oxygen, Operation theatre charges, surgical appliances, medicines, drugs, expenses related to chemotherapy, radiotherapy, artificial limbs. It also covers surgical procedure … READ MORE ...